How to make a Canva infographic design in minutes
How to make a Canva infographic design in a few minutes. Canva is a free graphic design platform that allows you to easily create infographics, slideshows, and other designs. In this article, we'll guide you through the process of creating an infographic in as little time as possible. now before we dive into the main topic which is how to make Canva infographics,  let's take a minute and look at some of the key points in this topic.
what is Canva?
Canva is a free online graphics tool that helps budding designers create infographics for social media posts. It's easy to use and gives you lots of customizable options.
Canva is graphic design software that helps you create infographics, illustrations, and more. It can be accessed from your computer, tablet or phone so you can make the design anywhere.
Why use an infographic?
When it comes to sharing your findings with others, the right format is an infographic. It's crucial that you have strong content and a clear objective with your infographic. This is where Canva comes in; they offer free templates so you can create your own infographics quickly. By using this tool and creating an infographic on a topic you're passionate about, you're more likely to retain and share your work. It also allows you to quickly share your findings with others.
what is infographic design?
Infographics are collections of images, data visualizations and concise text that present complicated information in a clear and visually-engaging way. The most useful work by a design agency will have infographics due to the potential to increase web traffic significantly and raise brand awareness.
Canva alternatives for infographic design
Canva is a great tool that makes it easy to create professional-quality graphics. However, if you want to avoid it and get creative with your own designs, there are a number of other options. Here are some alternatives that can help you stand out from the crowd using a variety of templates. Piktochart – This is a great tool for creating simple and straightforward infographics. It's also one of the most affordable options you can find.
Canva
Venngage
Crello
DesignBold
Visually
Piktochart
Giphy
Infogram
Mind the Graph
How to create an infographic using Canva
To make a good infographic design, follow these steps:
1. Create a free account
First off, to make an infographic design on canvas, you must sign up on the canvas. Create a free account using your Gmail, Google account or your Facebook account. Once you sign in, get ready to create your infographic design. Now take a look at what canva home page looks like, you will see a sign-up button at the top right hand.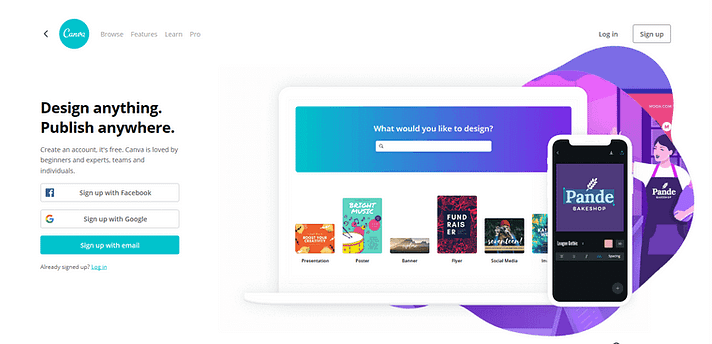 2. select an infographic template listed under the search column
To begin, choose a template meant for the infographic, to do this, use the search template and type in 'infographic' there are options to choose other designs( both free and paid)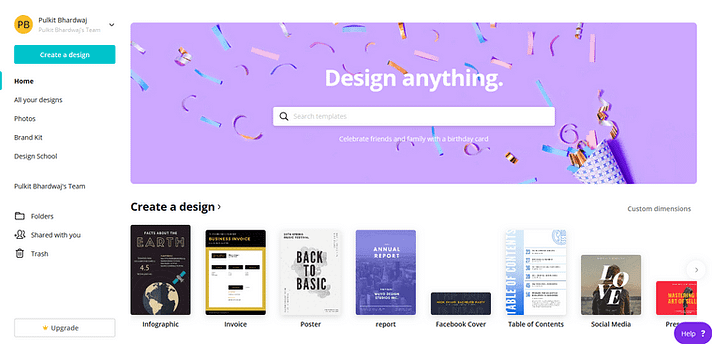 2. Choose your design style from the templates(layouts)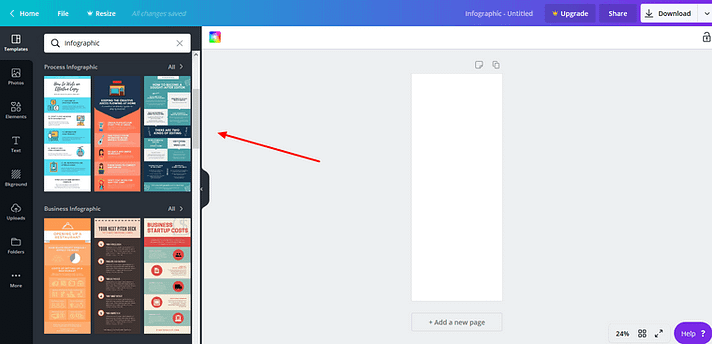 When using Canva to design infographics, the first 50 layouts are the most customizable. There is no limitation on size and designing is free, with a template library that has hundreds of options, some of these templates are free while some are not free. it is left you you to make a choice
Each template has a variety of options available based on the type you want. These templates can be customized to suit your needs if necessary. Whether you're looking for social media graphics or infographics templates, Canva provides professional designs for all designing needs.
Just go through the templates available and select the one you want for your design. but you can also create your own design without a template.
3. Customize the background and select fonts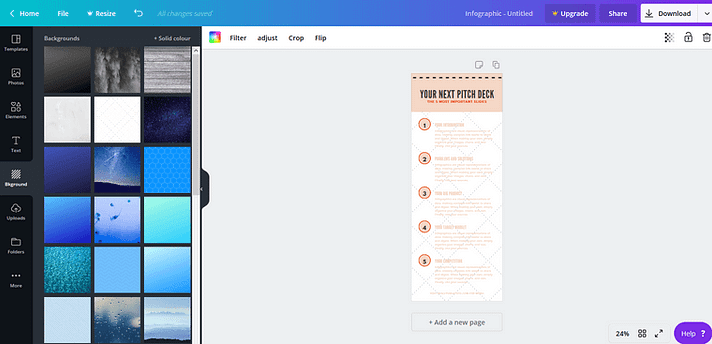 After selecting a template, choose the background you want. Graphic designs can now be customized with inspiring templates and backgrounds. this contains different designs, elements and colours
To select the background colour, click on the background icon at the left top bar close to the filter..go ahead and select the one that suits your brand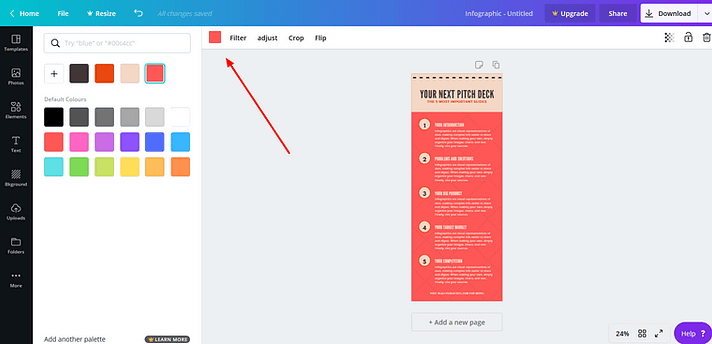 For the infographics you see here, I have selected a design from the "Education" category.
Changing color palettes is simple. Just click on the canvas, then click on the multi-coloured box at the top of the design space. Use the search box that pops up to find a variety of relevant colour schemes.
Canva offers 20+ different filters which you can apply to photos you find within Canva or images you upload from your personal stash. You can adjust brightness, contrast, X-Process, and saturation to get a sophisticated image that matches your website's style.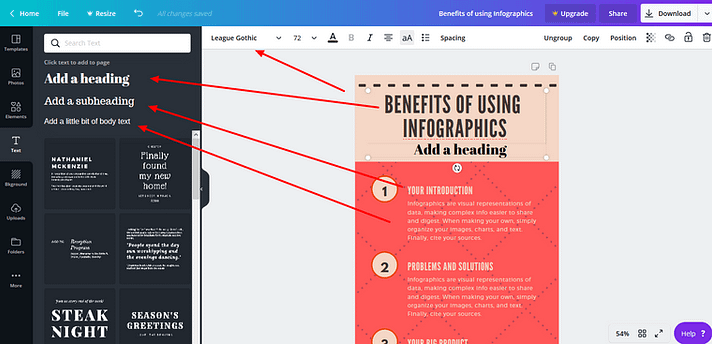 Add or change fonts in your graphic by selecting the text icon on the left side. Drag and drop the type of text you want to the canvas, remove the demo content, and start typing.
There are thousands of fonts to choose from in Canva. Select a font that works with your branding and the content of your infographics. Use the standard text editor features to fill out the details of your infographics.
Because the typography can be so dramatically customized, using certain fonts can affect your infographic's template. Make sure you're paying attention to the readability of the content.
4. Add graphical elements
The ease at which Canva lets you add graphic elements is a big reason why we decided to choose Canva for our 'how to create an infographic' guide. Infographics are so effective because they use powerful imagery to convey key data points. Be sure you're picking relevant images to represent your info.
Canva has categorized its graphical elements into "images", "grids", "charts", "frames", "shapes", "illustrations", and "icons". Under the "elements" tab, you will find an icon for just about every niche. To give you a feeling of the variety, we have created our infographics using some of the elements available in Canva.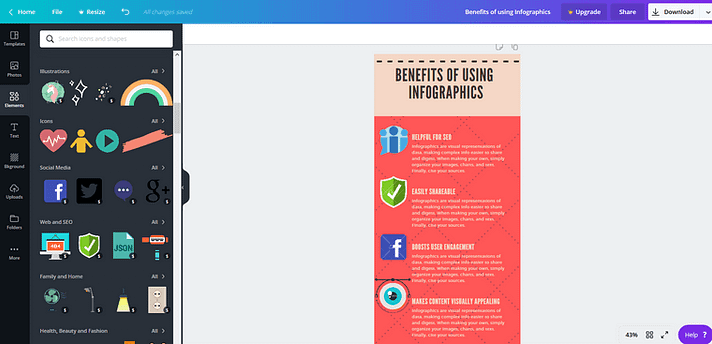 To select an element, double click on the type you want. You will find several styling options available for each type ("grids", "icons", etc.). Simply drag and drop the elements you like and resize to fit your design by dragging the corners.
If you're looking for something specific, use the search box provided to filter the results.
5. Download your file
When you've settled on the perfect design for your infographic, click the download button to bring up a list of file types.
Adjacent to that button is the sharing option. Canva allows you to share your Infographics directly to social media platforms like Facebook and Twitter.
You can even use the embed tool to add your infographic to a guest post and boost user engagement. Sharing your content is an important step in generating brand awareness.
Conclusion
Canva makes it simple and easy to create professional-looking graphics for your website, blog, or social media account. This infographic shows you how to use Canva to make a colourful, beautiful graphic that's free, too!